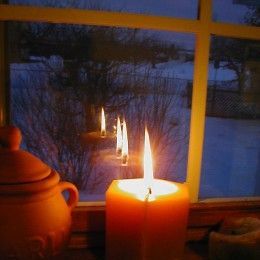 Candle in the Window at Christmas
Old Irish Customs and Traditions
The Irish have long been known for their hospitality and the primary function of the candle in the window was both as a guide to Mary and Joseph on their way but also as a sign of welcome to any stranger who passed that they would not go without, especially on the feast of the King.
This was also customary on the Feast of St. Brigid, since on Brigid's Eve, food was often left out, not only in welcome, but also in hopes that the Lady herself might pass by the door. What better way to bring luck and blessings to a family than to encourage the saints and indeed the Mother of Jesus to pass by the door.
The candle on Christmas Eve was truly more symbolic, since Mary was in fact thought to be more heavenly and unlikely to pass by. Brigid on the other hand, might actually pass by the door, and small pieces of cloth were often left outside in hopes that she would bless them.
These lovely Irish country customs are a reflection of the sense of closeness people felt to many of the female saints. Women in particular, had a great affinity for Mary and Brigid.
Brigid was thought to have been the midwife of Christ and became known as the "Mary of the Gael"
It's hard not to be touched by these customs and to feel a true connection with them. Who doesn't like to know that the light has been left on for them...
This lovely poem by Ruth and Celia Duffin captures that spirit beautifully. 
Christmas Eve by Ruth and Celia Duffin
A cup of milk
And a wheaten-cake,
And a spark of fire
For the Travelers' sake.
A door on the latch,
A light in the pane,
Lest the Travelers' pass
In the wind and rain.
For food and fire
And candlelight
The Travelers' blessing
On us this night
Escape, 1929