---
I've seen this done in many ways and as time goes by brides and grooms and their families are making their services more meaningful with respect to who they are.

There is often a special song or piece of music for the Mothers and generally it's directed to the taste of the Moms' themselves.

At this point the groom and his entourage of friends convene at the place where the vows will be exchanged and the wedding held. At this point the officiant is usually in place or about to come out.

The bride is last in the procession, usually from another area of the venue. Ring bearers, flower girls and brides maids generally go in that order followed by the Matron of Honor and "here comes the Bride."

A big music decision here is whether to have two pieces of music or one i.e. one for the procession of everyone (except the bride) and a separate piece of music for the bride, or; just one piece of music for everyone.

A good rule of thumb here is to judge a) how many bridesmaids and others are going to be walking down the aisle; and, strange as it sounds; b) how long is the aisle. If you have just a maid of honor and the aisle is twenty feet long, then it's an easy decision. Likewise, if you're having nine bridesmaids going down the aisle of a cathedral! What's in between can be trickier because it can get too choppy if tunes are changed too fast and it's easy to loose the "flow." However, the entrance song can get a tad long if there's a very long processional. Generally, experienced wedding musicians will be able to guide you in this area.
---
Celtic Wedding Processional ~ Music
---
Dresses and Fashion for Celtic Weddings
---
What to Wear
"Who, being loved, is poor?" 
— Oscar Wilde, Irish poet and dramatist
Weddings have always been a time for us to express our cultural heritage, a time to connect our own marriage to the history and values of our people. We do this both to emphasize the social legitimacy of the occasion and to remind ourselves that this union is but the latest link in a long chain connecting us to all of our ancestors. One of the simplest (and most fun!) ways to express these important ideas is through our choice of wedding clothes.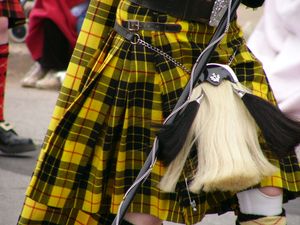 For the Groom
Even today, many men in Scotland choose to wear a kilt on their wedding today. The pattern of the tartan is typically that of the man's clan, as every clan had its own unique design. Kilts have not historically been as popular among the Irish (except in the Northeastern corner of Ireland where many families have Scottish heritage) as they are among the Scots. There are, however, a number of signature Irish tartans available. The patterns for these usually correspond to the man's home county (e.g. County Limerick) rather than to his clan.

Colors
You might be surprised to know that what we in the West consider the "classic" wedding outfit – the bride in white, the groom in a tuxedo - is in fact a relatively modern convention, one that only developed in the Victorian period (1837-1901, the period of Queen Victoria's rule in Britain). Before this, there was considerably more variation especially in terms of the color of the bride's dress and the style and color of the suit a man wore. Just as red is associated with good luck in many Asian traditions, blue was often considered the most propitious color for Celtic brides. 
Irish brides today, even if they usually wear white, often accent their outfit with "something old, something new, something borrowed, something blue" (see Something Old, Something New). Green, however, is best avoided because it is believed to entice the fairies, and fairies are notorious for stealing away precious things, including possibly the lovely bride!
Material & Patterns
In later periods (such as the 17th and 18th centuries) the color of the bride's dress would have been less important than the choice of materials, the intricacy of the needlework, and the extent of decorative flourishes (like ribbons and bows). High-born brides would have almost certainly worn silk or other expensive fabrics. The color of the material may have been something quite plain like a pastel, but it was likely to be embellished with vibrant floral patterns, intricate embroidery, and bright brocade. Brides from a more humble background might have had less sumptuous material, but they would have made their dress special by adding many ribbons, bows, and pretty flourishes. In both cases, as in earlier Celtic times, the dresses were typically floor length.
It was traditional for Scottish brides to take a tartan scarf and wear it as a sash across their dress once the actual ceremony was completed. This demonstrated their new status as members of their husband's clan (see also chapter two, handfasting). This is still practiced today and is a simple and effective way to express the couple's Scottish heritage.
Excerpt From: Áine Minogue. "A Celtic Wedding: How to add the perfect Irish touches to your wedding." iBooks.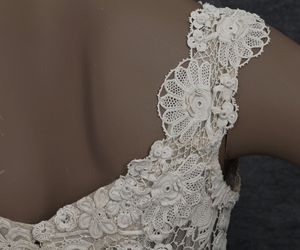 Irish Linen or Lace
The "white gown" fashion was often accentuated with Irish lace, a form of crochet lace that was regarded as a couture profession at the turn of the 20th Century. However, the Irish were producing lace as far back as the 16th Century, often in convent communities where they tried to emulate the styles of crochet lace on the continent.
Crochet Centers were set up all over Ireland by the Ursuline Sisters in order to provide employment during the famine. The first center started in 1845 in Blackrock, County Cork.
Soon, the couture lines of London, New York and Vienna sought out "Irish Lace," for the fashions of the day. Irish Lace was used to make dresses and to decorate blouse bodices and cuffs, trimmings and ruffles. Even men wore lace on their evening shirts.
Irish lace waned in popularity as a result of changes in fashion, however, the coutour lines of the world came calling again in the 1940s when lace came back into fashion.
Today, many brides like to add Irish lace to their wedding gowns. Many carry an Irish lace hanky or use small lace place mats at the center of the reception tables.