Irish and Celtic wedding superstitions explained
From rain on your wedding day to the lucky horseshoe, learn how tradition and music plays a role in Irish weddings.
---
Rain on your Wedding Day is Good Luck!
This isn't so much a tradition or custom as it is a folk response to the realities of Irish weather. So yes, if it makes everyone feel better, a little bit of rain is a very auspicious start to the bride and groom's life together!
Up until recently the vast majority of Irish weddings would have taken place inside a church with receptions also taking place indoors. The reasons for this were both religious and practical – an outside wedding is a major gamble in either Scotland or Ireland, as rain is an ever-present reality even at the height of summer. However, while "traditional church weddings are still the norm, one now sees "garden weddings" and "beach weddings" taking place more frequently (always with a backup tent or, as we call it, a marquee).
Excerpt From: Áine Minogue. "A Celtic Wedding: How to add the perfect Irish touches to your wedding."
---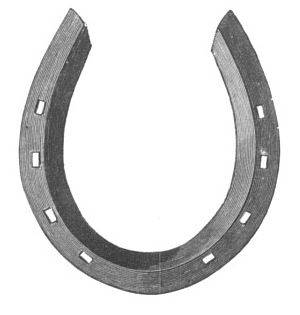 Many Irish brides carry a horseshoe for luck. A horseshoe? Yes, a horseshoe. The Irish have a long association with horses and even today the country is internationally recognized for its highly developed horse breeding and horse training industry. Historically, only relatively wealthy people would have owned a horse and so the animal became associated with higher social status and good luck in general.
While the Irish bride may have originally carried an actual horse's shoe made by a blacksmith, today she typically carries a light plastic horseshoe (usually painted silver) and it is either sewn into her dress, purse, or floral bouquet. It sometimes also appears on top of the wedding cake and visitors to Ireland will notice that many greeting cards for newlyweds feature the horseshoe.
Excerpt From: Áine Minogue. "A Celtic Wedding: How to add the perfect Irish touches to your wedding."
---
Carrying the Bride over the Threshold
---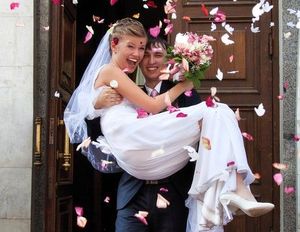 This has long been a tradition in Ireland and elsewhere. The story goes that it was considered very bad luck for the bride to trip and fall as she was crossing the threshold of her new home. To avoid the possibility of such a disaster, her new husband picked her up and carried her through the door. Good luck assured…unless the groom has a bad back of course!
Excerpt From: Áine Minogue. "A Celtic Wedding: How to add the perfect Irish touches to your wedding."