Music has stood out as perhaps the most central expression of Irish heritage down through the ages. Those of you who have been to Ireland will know that music is in the soil there, on the waves, and on the wind. It comforts us in times of separation and loss, and brings us together in rousing celebration. And it has gone where we have gone. Irish emigrants, even when they had little else to their name, carried with them the instruments, tunes, and songs of their culture.
In fact, when people of Irish descent want a taste of their heritage today, they most often seek out the sound of Ireland, the music. My focus here in this chapter is Irish traditional music. What follows is a short primer on some of the instruments and music selections that will give an instant Irish flavor to your special day. And, if you're lucky enough to be able to arrange for live Irish music at your wedding, there is a companion CD recorded by Aine, "The Vow - An Irish Wedding Celebration" that can be played while the musicians take a break. This CD can also serve as the soundtrack for your ceremony or even as a backdrop to your reception. In addition to "The Vow" CD and your selections of recorded music from A Celtic Wedding, you may now book Áine Minogue to play live Irish or Celtic music on your wedding day!
When choosing your music, there are two basic things to consider. The first is the selection of tunes and songs that you'd like to feature. We have included several playlists for each part of your wedding that can be found at the Store including Sheet Music.
The second thing to consider is the instrumentation. There are certain instruments that will give an instant "Irish sound" to your wedding. We provide background on the harp, Irish pipes, and the Irish tin whistle as shown below. 
Excerpt From: Áine Minogue. "A Celtic Wedding: How to add the perfect Irish touches to your wedding."
Traditional Irish and Celtic wedding music.
Enjoy the sounds of bagpipes, harps and more.
---
Traditional Irish Instruments
---
The Celtic Harp
The harp is the national symbol of Ireland and can be found on all Irish coins, government documents and, that most famous Irish institution, the bottle of Guinness! For our purposes, however, you should know that, because of its delicate and melodious sound, the harp is the instrument most associated with Irish and Scottish weddings. Having served my trade as a harp player and having played many, many weddings over the years, I can honestly say that I think it is an inspired choice. Harp music gives a strong nod to our Irish heritage without being so loud or dominant as to overwhelm the ceremony or the vocalists. 
The harp has taken many shapes over the years and it is an instrument with a long and storied history. Evidence of harp playing goes back to Persia and to the period around 500BC. The Gaelic Harp, the origins of which go back to the first millennium, was metal strung and was played using just one's fingernails. The legendary Irish warrior Brian Boru was said to be an accomplished harpist and the harp was held in very high esteem in Ireland and Scotland until the end of 18th century when it almost became extinct due to ongoing political and social turmoil. Around this time a young man named Edward Bunting was commissioned to travel around Ireland to collect and document the tunes of the last remaining harpers. So taken was Bunting by the harpers that he made the collecting of their music his life's work. The material he compiled is the earliest of the Irish music collections and one of the loveliest.
 

Uileann Pipes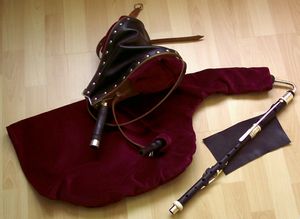 The Irish Pipes or Uileann Pipes (pronounced ill-awn) "are regarded as outstanding among the pipes of the world for their highly developed state and singular sweetness of tone" according to Brendan Breathnach (author of Folk Music & Dances of Ireland). Unlike Scottish bagpipes that require the musician to inflate the bag by blowing into it, the Uilleann pipes are inflated by means of a small bellow that sits between the musician's elbow and his torso. In practice this means that an Uileann piper is free to sing while playing the instrument. 
Irish pipes or Uilleann pipes produce a more subtle and sweet sound than their Scottish counterpart and for this reason they are more suitable for indoor use. It can be quite difficult to find an Irish piper here in the U.S., so most people tend to choose a Scottish piper and to station him (and his kilt!) outside the ceremony venue or reception venue. Pipes music has a way of cascading through the air, exciting a crowd, and calling all towards it.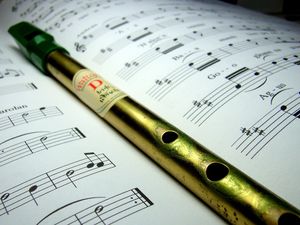 Irish Tin Whistle
The Irish Tin Whistle has six holes - one for each note of the diatonic scale - and can be found in several keys. A recent archaeological dig in Dublin found a whistle dating from the 12th Century and there is reason to believe that the instrument predates even this period. There are two main types of Irish whistle. The first, the 'high' whistle, is often referred to as the 'penny whistle' (it retails today for about $15) and is made with a plastic mouthpiece.
The 'low' whistle, which is less often used, is much larger and consequently has a much lower tone.
---
Irish Music Selections for Your Wedding
---
If you're looking to set the cultural tone right from the start you might consider the "Celtic Wedding Processional." I originally developed this gentle and highly romantic melody while experimenting with an old traditional march that I thought could be re-arranged to be a terrific wedding processional. My hunch was proven right and the "Celtic Wedding Processional" as I call it, has since become the tune of choice for Irish and Scottish wedding couples in the United States. So popular has the piece proven that I went into the studio and, together with some of the finest musicians from both sides of the Atlantic, recorded five different versions with various combinations of instruments. Depending on your tastes you might choose a version with anything from beautiful low-key lush strings to a more buoyant version with pipes, drums, and low whistle. You can find recordings of all the different available arrangements at Store together with Sheet Music.

Another very popular piece is "Give Me Your Hand" written by the great harper Rory Dall Ó Catháin. It is also known by its original Irish name "Tabhair Dom Do Lámh." This is pronounced toor dum duh lawiv for those of you who are interested, and it translates literally to the English title. Most Irish musicians will be familiar with this tune should you include it on your request list.
And when all is said and done, vows made and rings exchanged, you might opt for a jaunty Recessional such as the very spirited "Haste to the Wedding" from the great John Wayne and Maureen O'Hara movie "The Quiet Man." Or, if you prefer a more classic sound, you could ask your harpist to play the very lovely "O'Carolan's Concerto." This last piece is named after Turlough O'Carolan (1670-1738), a blind harpist who is considered one of Ireland's most talented composers.
There are a myriad of beautiful Irish airs to choose from for the quiet pauses in your ceremony. For suggestions and sheet music, please see "Meditation Interludes."
Excerpt From: Áine Minogue. "A Celtic Wedding: How to add the perfect Irish touches to your wedding."
---
Irish or Scottish Dancers
---
Having Irish or Scottish dancers perform is a terrific way to add a Celtic flavor to your wedding day. Many larger cities and towns here in the U.S. offer Irish dancing classes and some will even arrange to have their students come and dance for wedding receptions. They can provide a wonderful 15 or 20 minute interlude to entertain your guests while the musicians take a rest (most student groups will arrive with their own pre-recorded music). 
If, rather than having a group of dancers perform, you opt to have a traditional Ceilidh (pronounced cay-lee) or a dance session where everyone present is invited to join in, then I suggest that you consider hiring a professional "dance caller" to coordinate things. I also recommend that the bride and groom, and perhaps some members of the wedding party, have a few lessons in advance in order to learn some simple steps before the big day.
Excerpt From: Áine Minogue. "A Celtic Wedding: How to add the perfect Irish touches to your wedding."