~ The Twelve Days of Christmas ~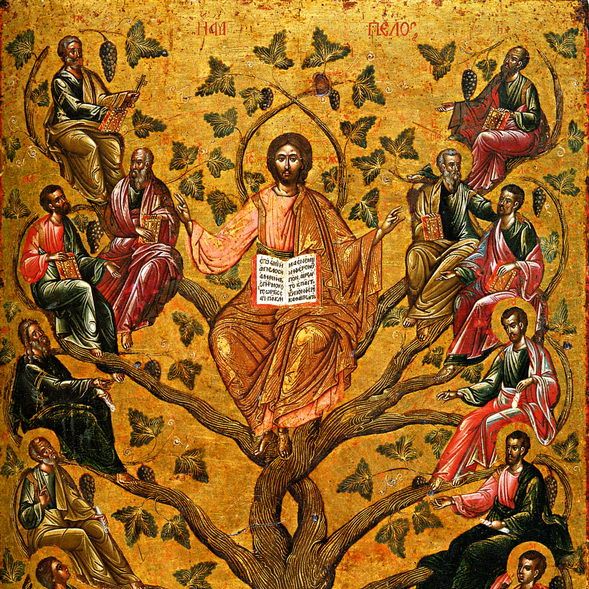 The true meaning of the 12 Days of Christmas?
Keeping tradition alive~ a "What" in a pear tree?
And a partridge in a pear tree? Whatever could it mean. Like many carols, there is, of course a deeper meaning. I find the history behind carols to be really fascinating!
Originally a "carol" was a song meant for dancing, often to usher in a new season. So, Spring, Fall and Summer all had their dances - and songs  - to mark the passing of the year.
Today, we associate carols with just one Season, winter and most especially Christmas.
Until Vatican II, all church carols were in Latin and ironically, dancing and singing to carols, many of which we think of as stalwarts of the Christian tradition were discouraged! That didn't stop people creating nativity plays and carols in their own language to welcome the birth of Christ and the changing of the seasons. 
I'm especially fond of those carols that mark the passage of time around the Twelve Days of Christmas. The Kilmore Carols are a beautiful selection of Irish carols in Gaelic (Irish) and one is sung for each of the Twelve Days. They originated in the village of Kilmore, Ireland and have been in continuous use there for generations. It's lovely to hear all the congregation singing Gaelic verse, often with little or no accompaniment. It really makes for a beautiful atmosphere. 
Another favorite carols is "The Twelve Days of Christmas" but much like everyone else I was always baffled by the meanings? And here's the thing about old traditions - things are rarely as they appear! Much like Mother Goose, there's often a lesson and such is the case with The Twelve Days of Christmas
So what does it mean? It was basically bible study and each symbol refers to a different aspect of the Gospel or Trinity.
The First Day of Christmas 
The symbolism of partridge in a pear tree runs deep. A partridge will feign injury or a wound when its young ones are in danger. The injury is meant to distract from the young birds who are often defenseless. As I understand it, the pear tree represents the Cross. I suspect the writer was going for some nice alliteration there (Partridge, Pear). The symbolism is, of course, Jesus Christ.  
The Second Day of Christmas: 
Two Turtle Doves refers to the Old and New Testament
The Third Day of Christmas
Three French Hens represents faith, hope and charity, the three virtues of the faith.
The Fourth Day of Christmas
The "four" represents the four Gospels 
The Fifth Day of Christmas
5 gold rings - first five books of the Bible - Torah
The Sixth Day of Christmas
The six days of creation
The Seventh Day of Christmas
The seven gifts of the Holy Spirit
The Eighth Day of Christmas
The beatitudes
The Ninth Day of Christmas
The fruits of the Holy Spirit
The Tenth Day of Christmas
The Ten Commandments
The Eleventh Day of Christmas
The faithful disciples
The Twelfth Day of Christmas
The twelve points of the apostles creed